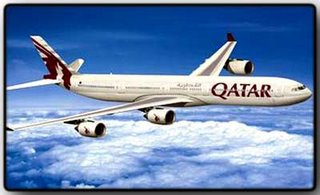 So
the concept is simple. Instead of Arabs becoming Muslim-crazed killers and oppressors give them a taste of democracy. Can such a concept really work?
Forbes
had a report a few days ago called
The Top 40 Arab Brands
. I've listed just a few of these successful companies - what can happen when even Arabs have tasted democracy. Religious oppression doesn't work, socialism doesn't work, nor does anarchism work. Only democracy can offer individuals freedom and a future.
Americana
- This Kuwaiti company sells processed meat and chicken, dairy products and baked goods under the Americana brand. It had revenues of $840 million and net profits of $195 million last year.
Fine
- The Jordanian Nuqul Group sells facial tissues, diapers, feminine sanitary napkins, toilet paper and other paper products under the Fine brand. Last year, Fine had revenues of more than $250 million.
Qatar Airways
- The national airline of Qatar is one of four airlines in the world to be awarded a five-star rating by Skytrax, an airline rating agency. It flew 6 million passengers last year.
Gulf Air
- Bahrain-based Gulf Air is one of the oldest airlines in the Middle East. Last year, it flew 3 million passengers to 50 destinations worldwide.
Aramex
- This Jordanian express shipping company is gaining global recognition. Aramex became the first Arab company to trade on the Nasdaq stock exchange in 1997, although it was later delisted. Last year, it went public on the Dubai Financial Market. With 240 offices worldwide, it reported $232 million in revenues in 2005.
Patchi
- This Lebanese brand is synonymous with chocolate in the Arab world. It is sold in more than 22 countries and last year had sales of $150 million. Patchi remains a family business, run by founder Nizar Choucair.
Future Television
- Funded with money from the Hariri family, Future TV has become popular in the Arab world thanks to teen-oriented programs such as Super Star, Project Fashion, and the comedy La Youmal.
Wataniya Telecom
- Launched in 1999 as the first private telecom operator in Kuwait, the company provides service to 6 million customers in Iraq, Tunisia, the Maldives, Saudi Arabia and Algeria. Last year, it generated revenue of $1.2 billion, with a net profit of $157 million.
Milco
- UAE-based National Food Products sells a range of items, including dairy products and fruit drinks, under the Milco brand. With sales increasing at 30% annually, it recorded revenues of more than $200 million last year.
Melody
- Gamal Ashraf Marwan, an Egyptian businessman, runs Melody Interactive TV. It broadcasts music videos through three TV channels: Melody Hits, Melody Arabia and Melody Aflam. Melody also generates revenue through partnerships with mobile phone operators.
Splash
- Thirteen years ago, Mickey Jagtiani, chairman of the Landmark Group, opened the first Splash boutique in Sharjah, UAE. Although it carries other designer brands, Splash is focused on designing and selling its own labels of men's and women's wear, including Ms, Retro and Maxim. There are now 70 Splash stores in the UAE, Saudi Arabia, Kuwait, Bahrain, Oman, Qatar, Jordan and India.